1.5kg Vegan and GF Pick n Mix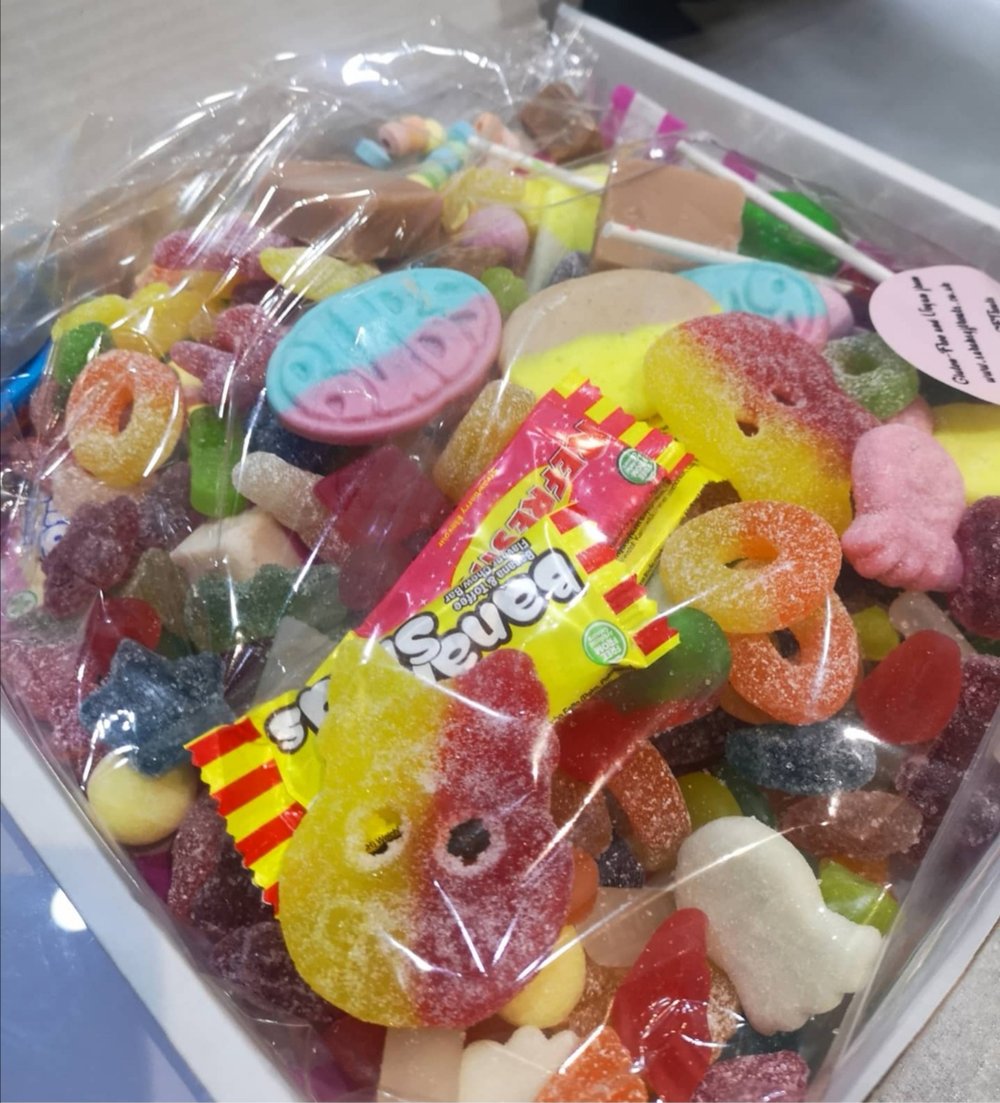 Standard postage to any UK address. For more info see FAQ page. Will be shipped now unless you request otherwise.
I am trained in Food Hygiene, Allergens and Catering for Coeliacs.
Let me know at the checkout if you want a typed message in the box lid x
May contain (depending on stock): vanilla fudge, salted caramel fudge, strawberry and cream fudge, chocolate fudge, love hearts, sugar-coated hearts, sugar-coated neon rings, cherry lips, gummy stars, wine gums, gummy fruit flavour carrots, candy necklace, candy watch, fizzy strawberries, fizzy cherries, gummy cherries, sour fizzy bears, bubs sour octopus, bubs cool cola skulls, bubs lingonberry and blueberry ovals, bubs sour tutti frutti diamonds, bubs raspberry and blueberry foams, bubs banana and caramel foams, bubs big sour skulls, apple, blueberry, lemon and strawberry fruit hearts, traffic light, watermelon, grape and bubblegum mega lollies, gummy cola bottles, fizzy cola bottles, fizzy cherry cola bottles, bubblegum bottles, sour peach rings, sour dinosaurs, sour blue jelly babies, fizzy orange and lemons, sour dummies, funky fruits, american hard gums, mini sugar-coated gummy fruit bottles, cherry, strawberry, blackcurrant, watermelon, blue raspberry, apple, rhubard and custard, toffee, lemon and bubblegum bon bons, chew bars- refresher, drumstick, stinger, banana skid, apple pie and custard, rhubarb, lemon meringue, sticky toffee pudding. Earliest BBE 09/2021
ALLERGENS:
SUPLHITES, SOYA, TRACES OF NUTS AND MILK
All of the sweeties listed are carefully selected to ensure they do not contain gluten (or traces of) and that they are vegan (no gelatine, no beeswax etc.).